Fill out the online application for admission to G. C. E. (A/L) of Sri Sumangala College for the year 2025. You can download the printable application.
Read More »
ශිෂ්‍ය පුරප්පාඩු සඳහා ඉල්ලුම්පත්‍ර යොමු කිරීම 2023/11/30 දිනෙන් අවසන් වේ.
Read More »
"To strive to form righteous individuals who have the potential to conquer the diverse contemporary challenges in a Buddhist cultural context"
In order to thrive and flourish as a leading independent school in legendary Panadura locale, our mission is to ensure and appreciate Sinhala Buddhist traditions and customs.
To equip with excellent academics and exceptional wisdom.

To develop balanced personality.

To foster the moral and spiritual development.

To inculcate patriotic sentiments and religious values.
To establish pleasant teaching, learning atmosphere in the school premises.
To improve the student performance level in leading examinations and academic field.
To develop the physical and human resources effectively.
To generate a student community equipped in English knowledge.
To create a student community capable of facing inconsistent social needs and challenges tolerantly.
To instill peace and coexistence among students.
To form innovative future leaders who are enriched in knowledge of global trends.
To make the school effective and excellent place of teaching, learning process.
The Application for the admission to G. C. E. (A/L) of Sri Sumangala College for year 2025
A MESSAGE FROM THE PRINCIPAL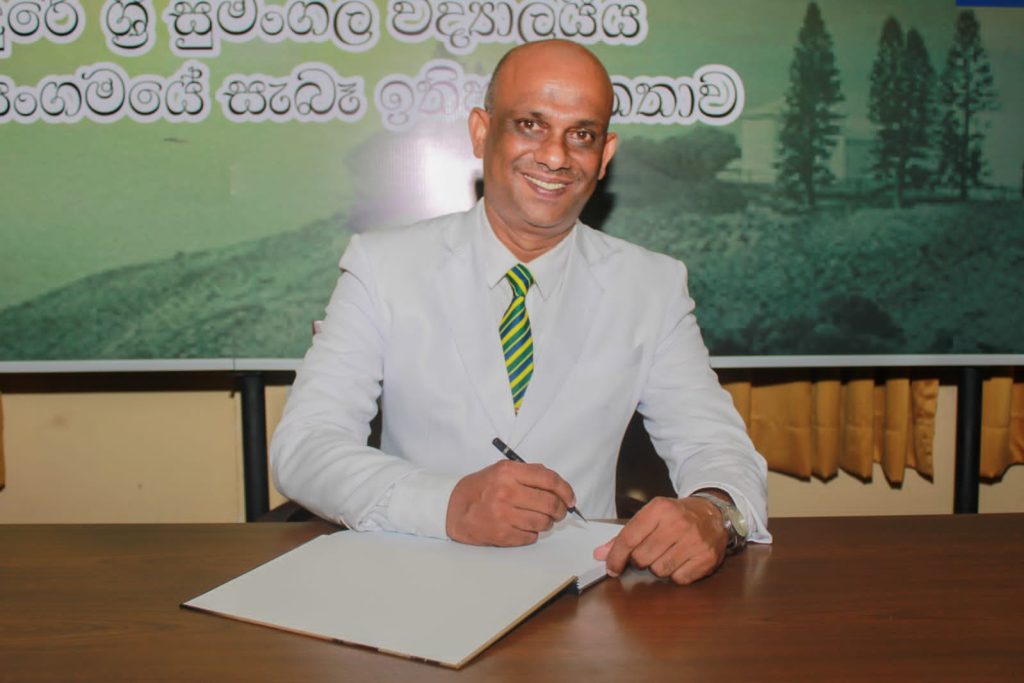 It is with great pleasure I pen this message to the school WEB and I consider myself privileged to be part of Sri Sumangala College Panadura, an institute which has been functioning exceptionally with a proud history over 113 years. With the rapid advance of communication, the world has become a global village and people are interconnected through the use of novel media technologies. It is a fact that having updated information of the school forum would be an ideal channel to provide information to all over the world.
Sri Sumangala College, Panadura being one of the leading schools in the country has provided a great number of excellent personalities and expert scholars in diverse spheres. The utmost intent of the school is to develop skills, competencies and qualities in order to face social and global challenges, while productively contributing towards the sustainable development of the world. The college prioritizes a well-balanced education which shapes different personalities specified in distinct fields. Our greatest achievement as a school is not only producing well educated individuals, but also to provide young gentlemen with good morals and human values. Therefore, the school extra curricular activities, co curricular activities, sporting programs and various student organizations play a vital role in realizing these aspirations.
I would also appreciate the timely efforts taken by all parties to launch this website in order to provide access to updated information of the school, its growth and innovation.
Raweendra Pushpakumara
Principal